Issam Khoury, a well-known freelance journalist and civil rights activist, has faced consistent threats from the Syrian regime for more than a decade as the result of his work.
In his role as the school's International Journalist in Residence, Khoury will share his experiences and expertise in the Middle East with students in the International Reporting program. The school will also give him a platform to continue his work and to take classes that will help him build his network of civil society journalists in Syria and the broader Middle East and North Africa region.
The International Journalist in Residence fellowship is funded by the Committee to Protect Journalists, the Correspondent's Fund and the CUNY Graduate School of Journalism.
Even before the Syrian uprising in 2011, Khoury wrote about the need for political and social reform in his freelance writing for Arabic websites like Al Hewar al-Mutamaddin and in his capacity as the founder of the Center for Environmental and Social Development, an NGO aimed at creating a space for civil society in Syria. As a result, Khoury told CPJ that he was brought in for interrogation with Syria's myriad security agencies on a near-monthly basis before 2011. Khoury said this harassment never led to any charges or convictions.
As protests spread in 2011 to his hometown of Latakia, a stronghold for regime supporters, Khoury told CPJ he began actively reporting on the unfolding events. This included giving breaking news updates through his Facebook page. Khoury also began giving eyewitness testimony for local and international outlets such as the French news service Agence France-Presse.
At the time, President Bashar Al-Assad was attempting to argue that his government defended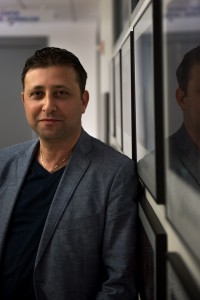 the rights of minorities and enjoyed support throughout the country. Khoury's reporting, especially as a Christian from Latakia, directly undermined the narrative. As a result, Khoury's journalism put him at significant risk.
In May 2011, Khoury was driving in the town of Jdeideh when a group of men, likely plain clothes security, confronted and began to beat him. The incident, caught on video, shows Khoury being repeatedly kicked in the ribs and face. The journalist told CPJ that the men attempted to tie him to a rope and drag him, but onlookers intervened on his behalf. Khoury believes the beating may have been in retribution for his reporting on anti-government protests.
On Sept. 29, 2012, Khoury was detained while attempting to cross the Arida border crossing from Lebanon back to Syria. He was taken to Air Force Intelligence, where he was repeatedly beaten and electrocuted during interrogations and held for almost a month. Khoury told CPJ he was held in a tiny cell with nearly a dozen other prisoners.
On Jan. 22, 2013, Khoury fled Syria permanently to Lebanon, where he stayed for 15 months. The journalist said he began writing for Al-Joumhouria newspaper from exile. Outside of Syria, Khoury said he took a stronger critical stance against Assad's government.
Khoury soon began to face pressure from the Lebanese authorities, who brought him in for questioning over his work with the paper. Technically, Syrian refugees like Khoury are not allowed to work in Lebanon, but CPJ believes this often ignored provision may have been arbitrarily applied in Khoury's case in reaction to his writing.
At the same time, Khoury began to fear that he was under surveillance by Hezbollah, the Lebanese Shia militia fighting in support of President Assad in Syria, he told CPJ. Feeling under threat and unable to work in Lebanon, Khoury travelled to the United States in May 2014.
In the past year and a half, Lebanese authorities have further tightened restrictions on Syrian refugees, and CPJ believes it is unlikely Khoury would be able to re-enter the country. If Khoury were to return to Syria, CPJ believes he would likely be arrested and tortured by Syrian security.
According to CPJ research, Syria is the most dangerous country in the world to work as a journalist. At least 85 journalists have been killed and dozens more have been detained by rebel and government forces since 2011. Journalists arrested by the Syrian government have faced systematic torture and often disappear without a trace. At least three journalists have died while in government custody under mysterious circumstances.
 the source: http://www.journalism.cuny.edu/2015/10/freelancer-issam-khoury-from-syria-is-the-new-international-journalist-in-residence/